At B&B Homes, we are so excited for our in house-designer Katia who will be celebrating her upcoming wedding. She will taking some holidays during this special time and will be away until October 11th. When she is back, she will be able to take on the post harvest designs for future RTM homeowners that are ready for their new digs spring 2017.
Maintaining an RTM home, like any other home, requires some upkeep to prevent damages, safety concerns and overall protection from wear and tear of the life of the home. As we head into fall, there are a few areas to consider for some home chore duties to catch up on before winter creeps in.
Maintaining Your Windows for Energy Efficiency
Maintaining your windows is critical to maintaining the longevity of your RTM home investment, while decreasing the need for repairs down the road. As the seasons change, you will want to check and make sure your windows are functioning properly by checking the sealing and examining for them for moisture damage. In triple or double pane windows you should check for water condensation. Maintaining the sealing procedure is inexpensive and key to maintaining your home's energy efficiency when done regularly.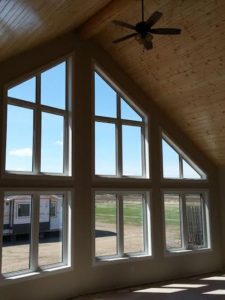 Guarding Your RTM Home Against Humidity
Whether you have lived in an RTM home for a few years or have only recently moved or are planning for an RTM, you need to be careful of this time of year when it comes to dealing with humidity as the seasons change. Moisture and humidity problems are classified as regular maintenance issues and are not covered by B&B Home's or any of our third parties' warranties. It is super important that you are aware of the dangers to prevent damages so you can take the appropriate steps to avoid incurring costly repairs. You may need to contact a company like onehourmagic.com who can help with ONE HOUR HEATING & AIR CONDITIONING services to see how they can help reduce humidity in your home during high heat seasons, preventing maintenance problems.To learn more about this topic visit below.
Read More: RTM Maintenance: Protecting Your Home From Humidity and Moisture
Tuning Up the Fireplace
Keeping your home warm during the harsh winters is key to staying comfortable during the cold months while saving on the energy bills. Before the cold season creeps in and you decide to turn on your fireplace, ensure that you schedule your maintenance and safety inspection for wood-burning fireplaces. This may result in a cleaning recommendation, depending on how much you use it. If you have an electric or gas fireplace, you have less to concern yourself with. We recommend cleaning the fireplace glass at least twice a year (spring/fall) with a proper fireplace glass cleaner since the materials from other chemical-based cleaning products may not preserve the look at of the glass.
Replacing Furnace Filters for Optimal Performance
Fall is the best time to give your furnace a tune-up. We recommend hiring a professional (like https://valleyservice.net/fargo-services/furnace-repair, for instance) to come and inspect every two years. If you notice that your furnace isn't working as it should, it may need a repair. A company like Energy Pro Heating & Cooling (check it out here!), will be happy to come and inspect your furnace to see if there are any issues with it. It's so important to make sure your furnace is working properly by getting it regularly maintained too. On those cold winter nights, a furnace is often essential. To keep yours functioning, it's so important to get your heater maintained by a company that can offer top ranking furnace repair services. That should prevent the heater from breaking, ensuring all necessary repairs are completed. If your house has a lot of dust, pets, or any smokers, you will want to change your filter more often. A simple eye test to see how clean the filter is will help you gauge if it is time to change your filter and to keep your furnace running optimally. If there is a lot of hair and dust particles surrounding the filter, bring out the vacuum before making the switch and clean the area. Filter lifespans depend on the quality of the filter you purchase and your family's lifestyle, your furnace filter should be changed every 1-6 months accordingly.
By creating a routine every fall, you can get in a home maintenance flow that won't take much time each year and will prevent future problems.