After coming off a bad experience with another builder, the Kernahan's mortgage broker Cari Skjerven, suggested they build with B&B Homes.  After going on B&B's website and finding their dream home design and receiving some helpful advice when calling in, it sealed the deal for them to work with B&B Homes. Now the rest is history!
Mike and Jennifer worked with B&B Homes for their entire project from start to finish, from the foundation pour to the RTM build, and the onsite build of a three car garage. See how this home transformed into a dinner party hosting haven with the help of B&B Home's onsite designer.
Finding Their Dream Home by Customizing the Willowdale Design Plan
"We finalized our plan with Katia and picked out our selections for our house and got updates through their easy to use co-construct program to manage the project as the house was being built. The selections you can choose to customize your home are endless and co-construct made the project a breeze!"
-Jennifer Kernahan
Creating a Cooking Oasis and Dinner Party Hosting Haven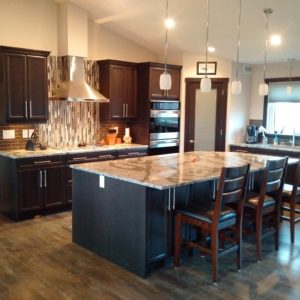 Since Jennifer and Mike both spend a lot of time cooking in the kitchen and are very social, designing a kitchen that met these needs was one of the most important aspects of their home. Mike and Jennifer had a lot of fun working with B&B's on-site designer Katia to make their dream kitchen come to life!
"We love the big Island, we get lots of compliments on this kitchen. Thanks Katia for adding the extra touches! We love our kitchen!  Even cooking up leftovers is fun!  Everyone that comes over to our place loves our open concept kitchen dining living room.  We entertained last month with 20 people in the house and it was so much fun.  Nobody was left out of the conversations at any time."
-Jennifer Kernahan
Stress-free with B&B's Co-Construct Project Management Tool
As they live far away, it was nice to see the progress of the house being built and to communicate through co-construct on any issues that needed to be addressed, as their house was being built.  It was also a major selling feature to not have to worry about looking for other contractors to do the eaves troughs, basement cement work or garage doors.
"Everything about the build from start to finish went so smooth and stress free."
-Jennifer Kernahan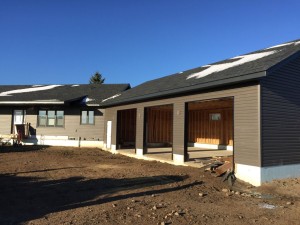 Impressed with Punctual After Care Service Work in the Warranty
Since the garage was built on site and the shingles put on in the late fall, due to the late timing they didn't get a chance to tab down properly. After two weeks of windy weather and one day of extreme winds, a small part of the shingles started lifting and a few started to come off. After they assessed the damage they contacted Darwin at B&B.  In less than a week, B&B's service team came out and repaired the missing shingles and went over the whole roof and tabbed down anything that was slightly loose.
The Kernahans were really impressed on the speed of which their claim was dealt with. Especially for the distance they are from the B&B site just outside of Delisle, that this was dealt with in a speedy manner.
"It is hard to find any company to deal with a claim that fast. Just shows B&B Homes takes pride in what they build and they really do care about their customers."
-Mike Kernahan
Working with our on-site designer can help you bring a vision to life that you didn't know was possible for a new RTM home. Contact B&B Homes today to coordinate a complimentary consultation with our designer
here.