In our last customer feature for 2019, we wanted to share the story of Dyan and Patrick from the Dodsland area. Their RTM planning goals were simple. To make their dream home unique to them and to start and finish the project quickly within a set timeline. For their existing home, they wanted to sell house fast and get into their new one as quickly as possible so they could start living their dream. Once their old home was sold, it was important for them to get their furniture out of the house, allowing the new homeowners to move their things in. When moving furniture, it's always better to get in touch with a transportation company. Normally, there is a lot more space in those vehicles, ensuring that things can be moved safely. Perhaps Dyan and Patrick could've contacted CSA Transportation (learn more here) to move their things for them. That way, they could've moved to their dream home much quicker.
Learn more about their RTM home experience and see inside below.
What do you like the most about your new home?
We love that the attention to detail was paramount and that our selections all came together flawlessly. Our home felt like "home" the second we walked into it (minus the light switch learning curve)! The lights were definitely something we were really excited about, and as you can tell, they look lovely! In our old house we were already looking to upgrade our lights just to give the place a bit of a spruce up, and I had found someone that was ranked as a top electrician near me to use, but in the end, we obviously decided to just recreate our whole house and it's proven to be the best decision we've ever made! Our great new living space is perfect for entertaining larger groups of friends with the dreamiest kitchen. We were also very pleased we were able to fit a long farmhouse table into the dining room, which has always been the goal.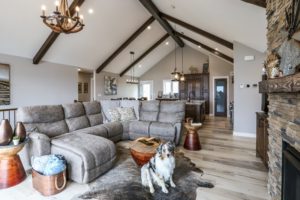 How long did you research your home for?
Not long, maybe 1 month. We had a pretty good idea of what we wanted, classic style with unique elements. We had friends that were happy with their B&B RTM's so we knew right away that's the route and builder we would use. We essentially contacted B&B in Nov/Dec 2018 and moved into our new home in Aug 2019. We were thoroughly impressed with the turnaround time of the planning and building stages of the project.
What were you looking for in a builder?
Meticulous attention to every detail was important to us, as well as accommodating odd custom requests. We wanted the unique ability to create our home from the drawing board, with interesting features, not commonly seen around these parts. Something we could live in forever and not have to renovate or upgrade down the road.
What was important to you in the layout of the home?
A mudroom to capture the mud of the farm prior to entering the main living space was critical for us to help keep our place tidy and somewhat organized from the farm life chaos. We enjoy hosting dinner parties for our friends, so a nice open space with plenty of room for cocktail making, sitting/standing, and for the kids to run around acting crazy was ultimately at the top of the list. We also wanted a bit of separation of the master suite from the secondary bedrooms so we created a layout that put them on the opposite side of the house, which so far, has been fantastic!
Why did you build an RTM?
We live in a rural area where it can take years to build a home on-site. We knew since we didn't want a mansion that this was the next best thing for our timeline of when we wanted a new home done by!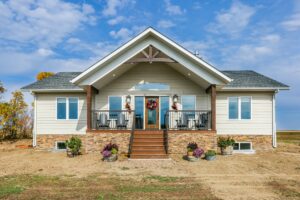 If you had one piece of advice for someone getting into an RTM what would it be?
It's astonishing how much things add up when building a home! For friends that have already asked, we always are sure to explain all the costs that they don't think about such as utility hookups, sewer, etc. And, to make sure you include a 30% buffer into your budget to allowance for any custom features you will want to include. We are always a proponent for compromising on size for better quality finishings, so we also recommend that.
What did you like about working with B&B?
We really enjoyed working with Katia to design and choose finishings for our dream home. Katia and Darwin were both fantastic at taking our wild ideas and finding solutions. In the end, we got the home we wanted, a layout that works for us, and quality that we know will last a lifetime. We also quite enjoyed the online experience of Co-Construct and tracking the progress of our build. We pitched in our thoughts as well to see how all our ideas fit together, sending them such websites as Doors Plus for references and ideas on how we wanted it to all look helped as it made us on the same page.
B&B has also been great after delivery of our home, ensuring fixes and problems were addressed in a timely fashion. We were able to move into our home 29 days after delivery, which might be a record, and are proud to recommend B&B to anyone that will listen.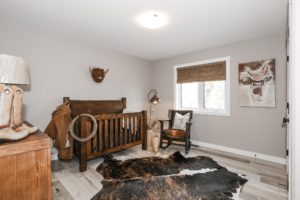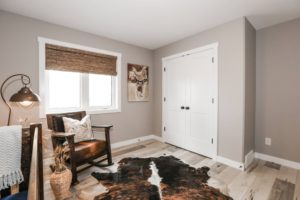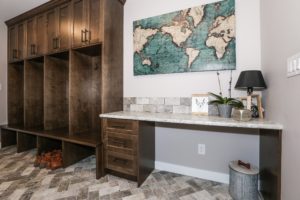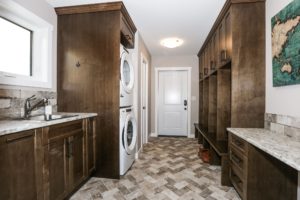 "B&B Homes created our dream home from start to finish in less than a year. They took all our crazy ideas and generated the perfect one-of-a-kind floorplan for our family and filled it with beautiful custom creations that truly make this house our forever home. No request was too big or small, they were able to make it happen and it turned out better than we could have ever expected. It was a pleasure dealing with everyone that was a part of the B&B Homes experience and we will recommend you as a builder to our friends and family searching for their own dream RTM forever." -Dyan McGrath