The Beierbach's decided to engage with B&B after seeing a floor plan call out their name that was shared on Facebook.
With some modifications to The Redburn to make it truly their own, the rest is now history and they are living in their custom RTM today.
When it came to looking for an RTM builder, they were looking for flexibility to suite their ranch style, good quality construction and of course affordability. They also needed to look into RTM options due to their remoteness in the Maple Creek area and for the convenience of outsourced project management around their busy lifestyles.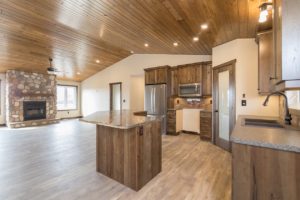 Having the Space for Entertaining and Hosting Guests
With an open concept and more living space than their previous small farmhouse, they are now more comfortable hosting guests and entertaining at their home and seem to do a lot more of it these days.
"We love our new home and look forward to enjoying for many more years! B&B met or beat every deadline which was so nice as we were super anxious to get into the house once we got the design phase done." -Donna Beierbach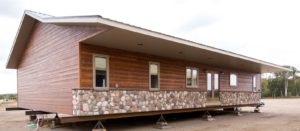 Bringing Together Ideas Through Research
Donna spent around three months researching different features and finishes online that would capture their style and preferences. B&B was impressed with all of their unique ideas that were able to be executed.
Their home, like all custom RTMs, was quoted based on the custom specs that were put together specifically from Donna and Williams' researching and planning. During this time they also talked to friends, neighbours, relatives — anyone they knew that had either built or moved in a new home.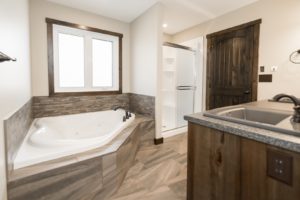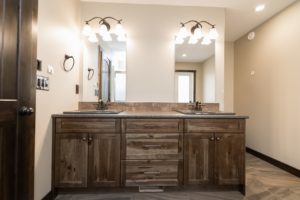 What One Piece of Advice Would You Share With Anyone Planning a Custom RTM Home?
"The expenses of site prep/ dirt work basement, plumbing/heating, electrical etc for hooking the house up really adds up. Get quotes for all of the above and allow for a bit extra!" -Donna Beierbach

What Did You Like About Working with B&B Homes?
"The staff!! So helpful! We were way out of our element with this project ….we deal with livestock, not paint swatches and tile samples so we leaned heavily on designer Katia for advice and input. She did such a good job of capturing the feel we were looking for in our home! Darwin was always eager to answer any questions we had and Travis was great about warranty issues and customer service in general!"
-Donna Beierbach
Want to Get Started Planning Your Own RTM Project?
Working with our on-site designer can help you bring a vision to life that you didn't know was possible for a new RTM home. Contact B&B Homes today to coordinate a complimentary consultation with our designer here.