The kitchen island is one of the fun parts to plan when designing your own custom RTM home. When visioning your layout, you need to be conscious that there is enough traffic space so you can be comfortable doing multiple tasks at a time in the kitchen, making the space functional. You also need to think about space for things like seating; you might need to leave a good amount of room for chairs. We would recommend for you to buy barstools for this as it will take up the least amount of space and make sitting at a kitchen island easy. Don't forget about lighting either! The right sort of lighting can make or break a kitchen island – we usually recommend some sort of long hanging pendant for this although spotlights are also very popular. However, there are plenty of lighting options to choose from. When the right lighting option has been chosen, it's important to ensure it's installed by a professional electrician so that it'll last a lifetime in the kitchen but also so it's installed securely. If you don't have an electrician already, sites like kalahari-electrical.com/marietta/ can help you make an appropriate choice. See, there's a lot to think about isn't there? Let's review some more ideas for designing a kitchen island when planning a custom RTM home project.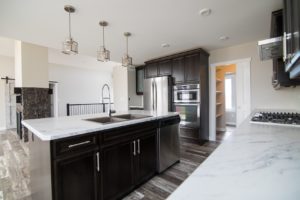 Double sink in the island area while allowing for enough space from the range to move around the space for the busy multi-taskers.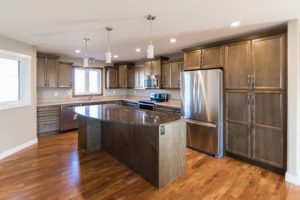 You may prefer prairie views when doing this dishes and opt for family meals on an easy to clean and maintain quartz countertop. It's well known that custom quartz countertops bring a certain elegance to one's home which is precisely why it's such a popular choice.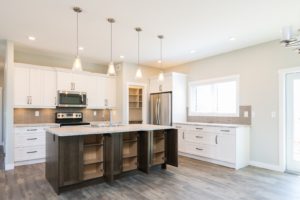 No wasted space if you plan for storage in advance.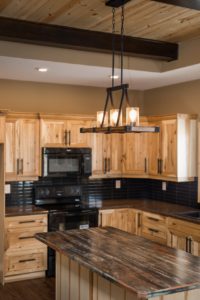 Create an ambiance based on your personal style and preferences to prepare daily meals. A rustic look can be achieved with custom cabinetry and lighting fixtures to compliment.
Plan your own custom RTM dream home with B&B's Dream It, Build It, Move It process. Contact Suzanne directly at suzanne@bbhomes.ca to get started.