Kassi and Caleb spent nearly a decade researching in preparation to embark on the journey of planning their dream home. After all, this kind of project is usually once in a lifetime, so they wanted to make sure they did it right.
They eventually decided to partner with a builder that would hold the same high standards with attention to detail, flexibility with finishes, and could deliver on the overall quality for their forever home.
Learn more about their custom RTM home building experience and see inside below.
What do you like the most about your new home?
We were able to design a custom home that was made specifically for our family. B&B was so patient with every revision along the way and we were very grateful for that.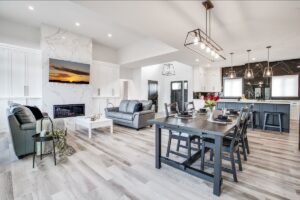 How long did you research your home for?
For almost a decade we explored different vendors to see what was out there. We looked at different floor plans and different styles of finishes during this time. We wanted to wait until we were prepared to make this investment and we were ready.  As you grow and adapt, you see how expanding your family evolves, we changed what we needed. We researched throughout Saskatchewan and Alberta before deciding who we would build with.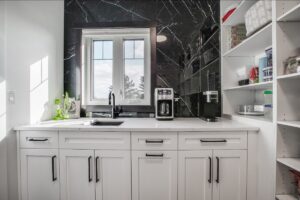 What were you looking for in a builder?
A big criteria for us was finishes. Once you nitpick the companies and could see how they finished projects and how different quality standards stood out. Being in Saskatchewan, we wanted to support a family business ran by wholesome people. We ended up really enjoyed working with Travis (B&B's CEO) and appreciated how humble he was working with the crew throughout the project.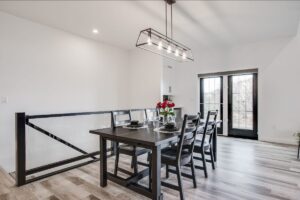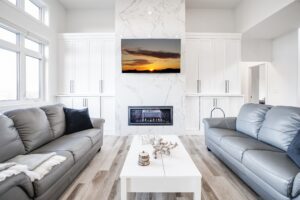 What was important to you in the layout of the home?
It was important to have an open concept. We wanted functionality and flow throughout the house. Having Katia work hand-in-hand with us, she made sure there was no wasted space. Every idea we had, she showed it to us to see if it would work. She shared her professional advice but was never pushy, she was very supportive throughout the whole process. Always open and patient with all of the decisions we were making. B&B Homes never said no to any of the features we requested. The sky was truly the limit with B&B Homes.
Why did you build an RTM when you did?
We decided to wait until we could do it financially We knew we wanted to customize our dream home so we wanted to be secure and comfortable.
We know some people who got a harsh reality check due to a lack of research and understanding what other companies are charging you for. Liked the transparent pricing. You need to understand the numbers and what you are getting. Over time we were able to see the differences in other builders in our research.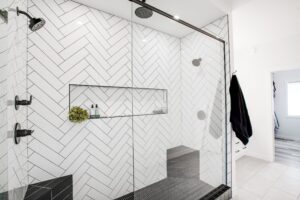 "We are type A people so we wanted to work with a builder that shared our high standards. The people at B&B are all so nice and patient. Every party involved held the same quality standards as we do. We were happy we could relax knowing that the whole project would be meticulously looked after. It was aggressively perfect."
-Kassi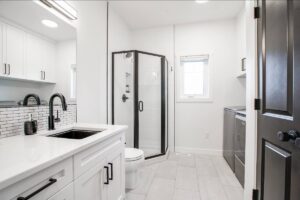 "We feel like we really got to know everyone and be part of the B&B Homes family. We were so excited to be the first RTM home that Travis moved.  We were so excited for our designer Katia when we learned she was having a baby. We had great relationships with everyone."
 
-Kassi
If you had one piece of advice for someone getting into an RTM what would it be?
Be honest about your budget so you balance what you can spend and have against what you want. Research is really important. Don't go with another company because you think they are cheaper. If you go with a cheaper company you are going for a lesser quality once in a lifetime investment. Really important to do your research and financially be prepared for different things.
Be open with your builder about what your budget is so they have an idea of what kind of finishes you are going to have and can help guide your finishes selections.  B&B puts their heart and name behind their homes because they want it to be your forever accomplishment as well.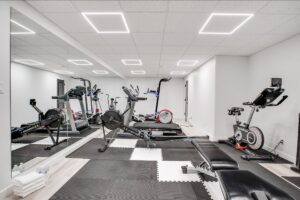 What did you like about working with B&B?
I don't know why anyone would build with anyone else besides B&B Homes. They can do anything and would do whatever we wanted. Some people may get hyped up with other reputations for other reasons. B&B can accommodate any time frame and budget. They were super accommodating and very open about it.
Other RTM providers said the time frame was open. Other timelines were hoaxes. B&B was organized and detail oriented right into their project schedules. We know people that lived in their RV because their home wasn't done for 6 months later than what they were told. That would never happen with B&B Homes.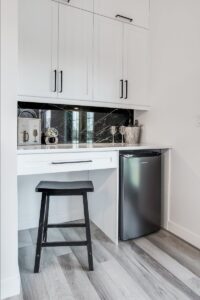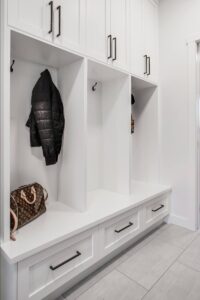 For more information on the process or to get started planning your own custom floor plan, reach out to B&B at any time here to discuss your project details.