When Mandi Odynski and Jesse Corcoran originally first engaged with B&B Homes, they wanted to know what their options were to put a new RTM home on an existing foundation on some land they owned just outside of Moose Jaw. Travis, B&B Homes' President headed out to their farm to take some measurements so B&B's on-site designer could draft what would be possible for a pure custom home design that would fit the dimensions. This can then help the buyer decide how they want to do the interior design of their new home whilst using websites such as https://collov.com/ to pick their pieces and get the necessary help.
Building a Custom RTM on an Existing Foundation outside of Moose Jaw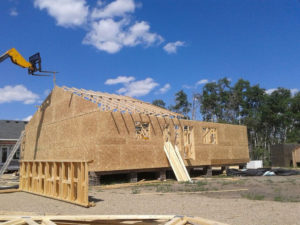 Once it was determined that their existing foundation was usable for a new RTM home, Mandi and Jesse began working with Katia, B&B Home's designer to plan a custom home that would suit their lifestyle. Whilst this was a relatively straight forward job, you always need to take into consideration what is already in place and whether it all needs removing. Some sites have needed shed removal and new foundations amongst other preparations to get the site ready for a new home. Not long after, B&B Homes delivered an RTM home covering 1427 sq feet to their land. They were able to utilize existing plumbing and included some new ICF insulation in the foundation for a future DIY basement. This saved a lot of time during this particular process, but even if the plumbing needed replacing, professionals from Nance Services, or somewhere similar, would've been able to get it resolved just as quickly. Luckily, this was an issue that we didn't need to think about and our focus turned to other areas. The design of the basement included room for bedrooms later on down the road if needed.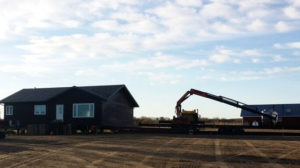 B & B Homes was able to move up our delivery date and hired an amazing crew that immediately eased my worries regarding the placement of our home on the foundation!
-Mandi Odynski
Colors and Unique Custom Selections for Entertaining
When picking colors and making features selections and decisions, Mandi liked the warmth that brown brought into the home. Since they regularly entertain guests, it was essential to have both a functional kitchen with a big island with an expansive eating ledge, with room for the pool table to fit between the kitchen and living room! Other features they included were a wine rack above the fridge, a pull out garbage, a study/guest room and a walk-in closet ensuite. These are just some of the options available when designing a new home. You can find a custom home builder near me who can talk you through all the details and help you realize your own vision.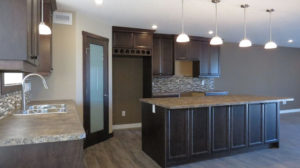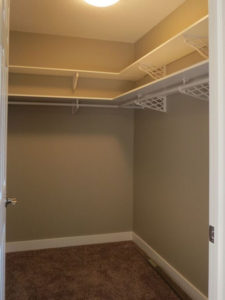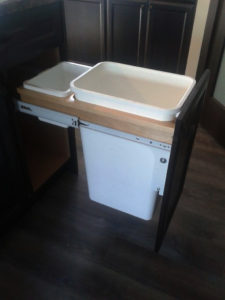 Choosing the Right Builder for their RTM Project
Mandi and Jesse heard about B&B Homes through their friends. They chose to work with B&B Homes over other builders because they liked the product, price and finishes they saw in their friend's home. They heard B&B Homes was really good to work with, which they were able to confirm themselves after a few site visits and agreed.
"Thank you B & B Homes for walking us through the building process, answering all our questions and concerns, and providing us with our beautiful home – we love it!"
-Mandi Odynski and Jesse Corcoran
Working with our on-site designer can help you bring a vision to life that you didn't know was possible for a new RTM home. Contact B&B Homes today to coordinate a complimentary consultation with our designer here.