The Hunter's began researching the possibility of a brand new home when they moved out to their farm in the Duck Lake area. It took about five years of researching and consideration before making the decision to build with B&B. They wanted to make sure that they found the plan they liked, and a builder they felt comfortable and confident with to build their forever home.
An RTM seemed to be the most practical way to get the home of their dreams. With their location, getting a builder and trades to come out and build it from top to bottom onsite would have been extremely difficult and would have cost a fortune with mileage charges. They decided on an RTM because it would be complete and they would be able to move right in within a reasonable timeline.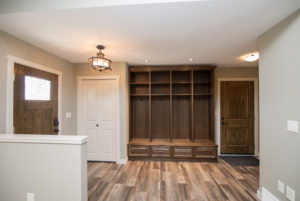 What Do You Like Best About Your New Home?
"It is such a hard question to answer….because honestly the answer would be everything. We have loved it all from the moment we moved in, to this very day. And I know we will still love our home 25 years from now! I guess though if we had to pick one thing, it would be the space that we have. We have enough room to not be on top of each other anymore!"  -Natalie Hunter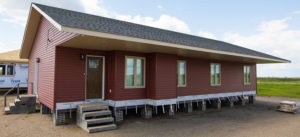 Finding the Right Design and Working With the Right Builder
The Hunters were living in a mobile home on their farm, and with their boys getting older, and a large extended family, they really wanted to have more room to accommodate hosting family and friends over.
The Hunters wanted to have a big entry area conducive to their farm life. The lockers, laundry and half bath have been the best value functional areas to have in their new farmhouse. They also wanted to have a large kitchen so that everyone can come and sit down to have harvest meals in. As well as lots of room for cooking and storage for all of their kitchen accessories.
Why They Picked B&B Homes for the Project
"We really wanted to deal with a builder that cared. That didn't just see us as a number. That went above and beyond building a product that would last us forever. A home is such a massive investment and you want to make sure that the builder understood that from a personal point of view, not just a monetary point of view. We wanted a builder that would hear us….because not everyone's tastes are the same and we knew what we liked and didn't like. We wanted someone to stand behind the product that they were building. Be upfront with everything so that there were no surprises." -Natalie Hunter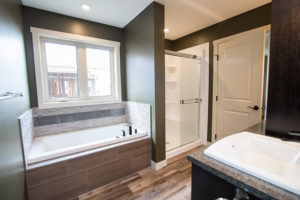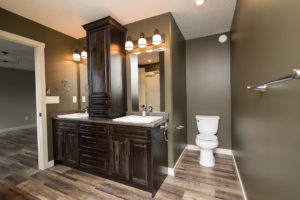 What's One Piece of Advice Would You Share With Anyone Planning a Custom RTM Home?
"Research your builders! Make sure you're not settling and that you find exactly what you are looking for.
What Did You Like About Working with B&B Homes?
Where do you start…..from the very beginning we knew right away that we would choose B&B. Darwin was the only one in all of the companies that we went to that took the time out of his busy schedule to take us and show us their homes. He showed us homes right from starting out construction to the finished product. He explained the differences in construction and what we should be looking for in a home. Not once did he ever make us feel pressured that we had to choose them. He just gave us all the information that no one else took the time to care to show us. By the end of the tour we knew that we wanted to deal with B&B.
We loved the fact that they only took on so many homes in a year and that they put all of their effort into making those homes the best that they could. They truly cared about the product that they put out there. When we met Katia she made such an overwhelming project seem so effortless. She made sure that we were happy with everything and went above and beyond to make sure we had exactly what we wanted! She is a true gem to work with. We can't believe how beautiful our home is….we are a little biased but we think its the best designed home ever!
It was so nice as a homeowner to hear that it was whatever we wanted our house to be! They had constant communication with us about everything and encouraged us to come out anytime to see the progress of our new home. It was like watching the best Christmas present ever being built from start to finish! It was very much like a family environment where we felt welcome by everyone!
We will always continue to recommend B&B. As far as we are concerned they are the best in the industry by far. Anyone who has a B&B home will be as lucky and grateful as we are that they had the very best home builder building their forever dream home. Thank you so much to the entire B&B family for making our RTM building process the most amazing time! We couldn't have asked for more….because you gave it all to us!" -Natalie Hunter
Working with our on-site designer can help you bring a vision to life that you didn't know was possible for a new RTM home. Contact B&B Homes today to coordinate a complimentary consultation with our designer here.