Having an energy efficient home is simply the smart way to build these days, especially given the fluctuations in weather during the prairie seasons.
Below are a few different ways you can make your home energy efficient and how we build energy efficient homes with our minimum standards.
1. All-weather windows and doors
We use triple-pane windows since it provides optimal energy efficiency over other alternatives. 3-pane glass reduces condensation on glass and is also more soundproof than double pane.
2. Insulate doors and windows with spray foam
Spray foam provides an airtight seal between windows and door frames providing an airtight and water resistant seal to prevent any drafts.
3. Install R-24 fibreglass batts in 2×6 exterior walls
B&B prefers to go above and beyond minimum standards by installing R-24 fibreglass insulation in our homes. This dense insulation helps to keep homes cooler in the summer and warmer in the winter.
4. Insulate attics with R-60, regardless of climate zone
B&B's trusses are designed with a "high heel". This design feature allows additional space for insulation in our attics in the spaces above the exterior walls. These areas are traditionally cold spots where significant heat loss occurs. By allowing additional insulation in those areas, we minimize this loss, contributing to lower heating costs and a more comfortable living environment.
See a few examples below.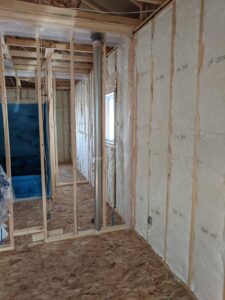 R24 walls installed in a recent project.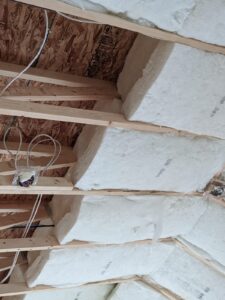 R20 and R40 batts installed together to achieve R60 in a vaulted ceiling.
If you have any questions about the RTM process or want to get a consultation to help get started with your planning,
contact us
to begin.