We are nearing the end of the onsite project series. With only part 4 remaining, you will soon have all of the information you need to shop and prepare for your RTM project onsite work, while having a good understanding of what happens before you officially move into your brand new home.
If you missed part 1 and 2 of this series, you can still read them here on the B&B Homes blog.
Part 3 of this series focuses on what you need to do to complete your basement before you move into your RTM while being compliant with local codes.
Rim Joist Installation
Rim joists need to be insulated once the house is set on the foundation. At B&B, we recommend using spray foam as you get a better seal but batt insulation and poly can also be used
Once the spray foam is applied, it must be covered by a fire resistant insulation such as Rockwool
If the rim joists are left uninsulated for a long period of time, this will lead to damage to your new home. Humidity levels will rise as the colder outside air mixes with the warmer inside air
*Please keep in mind, humidity issues of any kind are not covered by B&B Home's warranty as it falls under proper home care maintenance.
                                                                                 Rim Joist Installation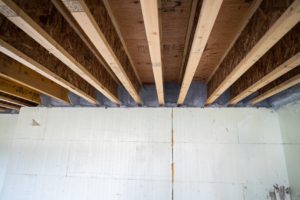 Installation of Drywall for Basement Foundation Wall
The Styrofoam blocks that B&B Homes uses in ICF foundations have plastic fastening strips every 8" and this is indicated on the surface by a diamond pattern. These particular strips have higher pull out strength then a dimensional stud
The easiest way to get the drywall into the basement is through a window opening. Keep this in mind when designing your basement and make sure you have at least one window that is big enough to accommodate this
ICF walls must be drywalled before you move in as code requires
*Although mudding, taping, and painting aren't required at this stage, you will want to consider having this done prior to your move in, for a smoother transition with less of a mess to deal with later on when finishing.
                                                                  Drywall of Basement Foundation Walls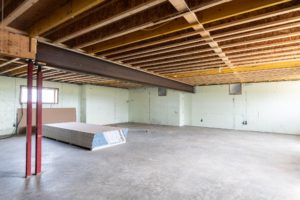 Other Miscellaneous Items to Be Code Compliant
Temporary or permanent handrails/railing must be constructed on your basement stairs as per code
You will need to have exterior doors leading onto a deck or landing with stairs and railing
If you have any questions about foundations or any other aspect of the RTM process, contact us here