We have reach the final part of this RTM onsite project series. We hope you have a good understanding of some of the items that will come up in a project so you can be prepared and educated.
Part 4 of this series focuses on some landscaping considerations that may or may not apply for your location, they are:
Eavestrough
Road access/driveway
Window wells
Deck
Parging exterior of exposed basement walls
Fencing (if needed)
If you missed part 1, 2 or 3 of this series, you can still read them on the B&B Homes blog.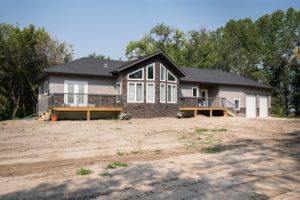 Final grade
This is a very important step of your landscaping. You need to make sure the ground is sloped away from your home. You need to plan for heavy downpours in the summer and snow runoff in the spring. If you get your foundation work done with B&B Homes we will help you prepare this.
Roadway Access
When planning for a new roadway, access, or when upgrading your existing, make sure you plan ahead and prepare for moving day requirements. Make sure there will be enough room for your home to safely come off the main road and into your yard. Ask us for specific information, we can help you plan for this.
Eavestrough
B&B does not install eavestrough on our homes. This is because there is a chance it will get damaged during the move. It is a good idea to have eavestrough installed as soon as you can once your home is on your foundation. This way any runoff from your roof will be directed away from your basement and prevent damages to your new investment.
Window Wells
If your basement windows will be below final grade, you will need to install window wells as well. Make sure that the local codes are followed when determining the specifics. This is very important as your basement windows serve as a fire escape and have some requirements.
Decks
There are many different finishes you can have when planning for your decks. One thing to make sure is that your deck is sitting on a solid foundation such as screw piles or concrete piles. This will help insure your deck will last for many years to come.
Parging
After your final grade is complete, window wells installed (if needed), and the decks is built, you will need to cover the exposed portion of the  foundation to protect it from the weather. Acrylic parging is one method you can use. This is a stucco like product that gets applied and comes in many different colours. Other options include siding or stone. This is usually one of the final finishing touches you'll do to the outside of your home.
Fencing
If you live in a town or small hamlet, you may want to budget for a privacy fence for around your property. There are many different materials you can use ranging from maintenance free to materials that you will need to stain or paint every year. Maintenance free materials will cost more but if the cost is figured out over time, you may save money, time and hassle in the future. Make this decision carefully!
Window wells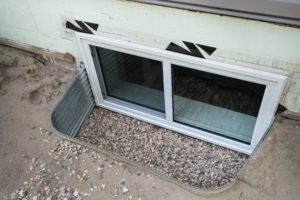 Eavestrough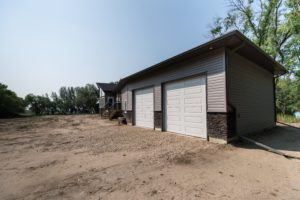 B&B Homes does onsite decks as part of our comprehensive RTM packages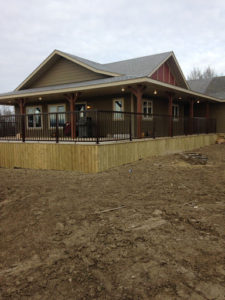 If you have any questions about foundations or any other aspect of the RTM process or would like to get started planning your own 2019 RTM project, contact us here.