One of the most popular rooms to design and plan in a custom RTM project is the ensuite. Considering you will be using this space daily, carefully planning what you want for features, function and layout will allow you to create a space made specifically for your lifestyle with a little luxury added in.
Below are a few considerations that will help you decide your ensuite "must haves" for you and your spouse:
Do you like to take baths to unwind after a long day or is a double shower more practical for your daily routine? Heated floors will keep you cosy but may not make the budget, making heated towel racks a great substitute.
Having different low level lighting options is something to think about if you or your partner have different work schedules. Alternatively you can brighten up a designated makeup area if you don't value the function of having two sinks.
Deciding on a short list of requirements will help you narrow down the endless options of what you will want to incorporate from the wide range of materials at your disposal for this special room. Don't worry though, you don't need to figure this all out yourself if you are working with the right design team.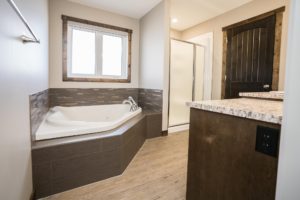 The ensuite is a space you can customize to your preferences with different features and materials to showcase your personal style in a space you will be using every single day.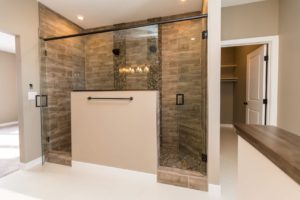 One of the perks of planning a custom RTM over a home that is ready made, are the endless options you have at your disposal to create your own sanctuary made exclusively for you.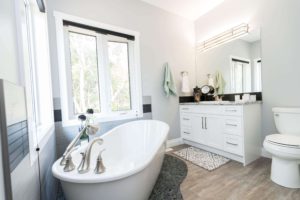 Custom shelving allows you to make smart use of your space with practical storage for organizing your toiletries and linens.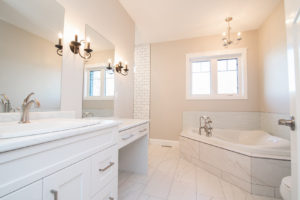 Working with our on-site designer Katia will help you to discover your style and feature preferences so you end up with a dream ensuite, without the pressure of having to figure it all out on your own, or settle for something you don't love.
Contact B&B Homes today and start planning your own daily ritual oasis!