Fall and winter are the seasons to be cautious with humidity levels in a new home. Moisture and humidity problems are classified as regular maintenance issues and are not covered by B&B's warranty. It is very important that you are aware of the dangers so that you can take preventative measures against any future damages and avoid incurring any costly repairs.
The early warning signs of high humidity are:
•Exterior door handles & deadbolts no longer work properly
•High amount of moisture on windows
•Exterior door handle & deadbolts have visible moisture or frost on them
•Exterior doors are freezing shut
•Water pooling on window sills
•Exterior door handles & deadbolts begin to rust on the inside
If things get really bad, the worse case scenarios of high humidity (which we have seen) includes:
•Cabinet doors swell to the point that they won't close
•Paint is peeling on cabinets, railing, etc.
•Laminate flooring buckles
•Mold will grow on doors, windows and other areas of the home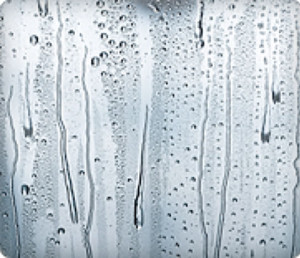 Before any of these warning signs occur, there are some measures you can take. They are:
Testing the humidity with a reliable tester (contact us and we will send you one to keep free of charge)
Increase ventilation by keeping air circulating with a small fan or by opening windows
Make sure an air exchanger is set and running properly (make sure your installer explained all the settings and how to operate it)
Run a de-humidifier. If levels remain high you may need one on both the main floor and in the basement
If your basement floor is not cemented, it needs to be sealed with poly
During the summer months, running your air conditioner will help reduce moisture
*Make sure that the silicone around the tubs, showers and between the kitchen counter top and walls is still fully intact. If it isn't, you need to replace it. If moisture gets around the tile or counter tops you will develop swelling and moisture issues over time.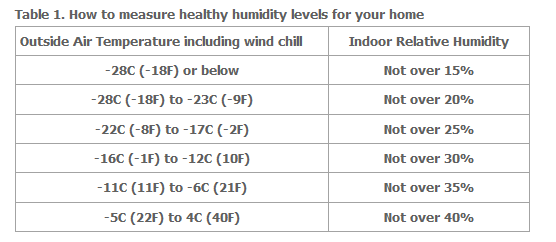 Re: Table 1. Wind chill temperature – this is the method used to relate wind and temperature. Usually traditional temperature readings do not include a wind chill factor. For example, with an indoor temperature of 20C and an outside air temperature of -12C this table recommends a relative humidity of 30%. However, with an outside air temperature of -12C and a 20km per hour wind, the outdoor wind chill temperature is -26C and so the level of relative humidity should be reduced to 20%. Moisture and humidity damage is classified as regular maintenance and is not covered by your warranty.
To manage the humidity levels in your home, monitor the levels mentioned in the chart above and use your HRV system or a dehumidifier to regulate moisture and protect your investment.
Monitoring moisture and humidity levels help you protect the value and health of your home.
Feel free to contact us if you need more information or have any questions about humidity in your RTM Home.