Selecting cabinets is one of the biggest decisions to make when planning a custom RTM. The kitchen also happens to be one of the most expensive rooms to finish in a new home. Before deciding on species of wood and countertop materials, consider your lifestyle and what functions you will need to determine the appropriate durability, gadgets and storage necessary for your family into the future.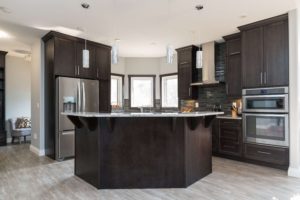 Trendy or Traditional?
Are you the type to renovate your home when you are ready to make a change? Picking classic finishes may be more advantageous for timeless longevity and prevent your cabinets from looking dated. Depending what your personal style is, you will want your cabinets to match accordingly. What is the look and feel of the space you want to prepare daily meals and entertain in?
Cabinet Science: The Structure and Components
There are three basic structural components to a cabinet: the box, the shelves and the drawers. Each can be constructed in a number of ways.  At B&B Homes, we build all of our cabinets custom to the dimensions of the floor plan  and design them to fit the individual needs of all our customers.
Finish and Function
Cabinets are one of the most visible aspects of your kitchen design. At B&B we will make any home with the materials you wish. If you are looking for our advice, we recommend working with maple doors. These specs we use as a minimum standard in our RTM kitchens. This durable species adds warmth and elegance to both traditional and contemporary settings without blowing the budget or sacrificing quality.
Bringing It All Together with Appliances and Countertops
Creating a vision with a designer helps you plan your cabinetry colors,  countertops, backsplash tile, plumbing fixtures and appliances, to pull off the look and function you are aiming for. Often B&B clients make the investment in new appliances and granite or quartz countertops since their custom RTM will be their forever home. The kitchen is the space you will need to plan for the most diligently in an RTM project.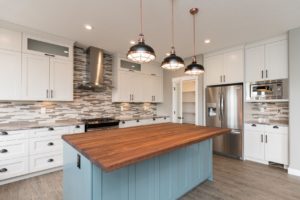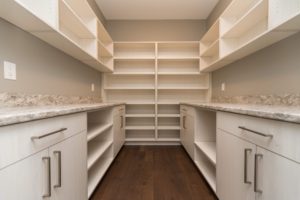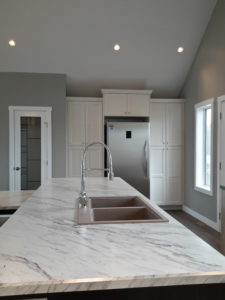 For more information or to start planning and designing your dream kitchen, contact B&B Homes to get started.