Learning how the whole RTM process works from start to finish can feel somewhat overwhelming at times if you are new to it. We have put together an educational ebook based on our top blogs and newsletters to help you get the knowledge you need to make informed choices about your own RTM project.
Download your copy of the RTM Project Roadmap on our website here.
B&B Homes manages each build project in a simple to use program called co-construct. By logging into our co-construct site, you can monitor the progress of each stage of your build and make recorded decisions and conversations all in one place! Details on estimates, change orders and on-going progress photos from our designer happen inside co construct as well.
Then, there are a few final steps to wrap up the RTM building process shortly before your new custom home is delivered. They include:
Preparing the Foundation
Coordinating the final preparations for the foundation needs to happen no less than 21 days before the house is moved. The concrete needs to be poured for an ICF foundation three weeks before the home is moved so that it has enough time for it to cure. It is at this time that the garage foundation gets poured, alongside any additional parts of the home that may require this step. B&B Homes offers foundation and basement services for a full suite offering, however you are welcome to source this component locally as well and have foundation inspections carried out if you so need. Coordinating this step with your RTM builder is critical before the big move day.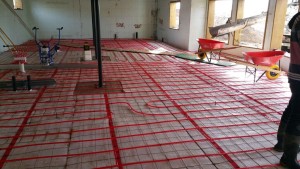 Pouring the Basement
Once the house is set on the foundation, then the basement floor gets poured. We do not pour the floors before the house arrives because the movers put their equipment in the basement and lift the house from underneath, which could result in cracking the concrete floor if it is done too soon. There are some instances where this can already be in place. Sometimes the layout of the site, trees, or buildings make for tight spots in the yard (and the movers need that extra space) or they will need to load the house onto the foundation from the garage side. Once that is all complete the basement floor can be poured and the basement steps installed.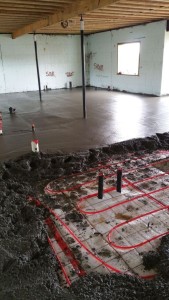 If You Plan on Having a Garage or a Deck, Pour the Concrete Now Too
It's a good idea if you're building your deck right away or a garage in the near future, to pour concrete piles for either scenarios at the same time as pouring the floor to avoid extra charges. The garage and deck can be built as soon as their foundations are ready to be built on. Which in some cases can be as soon as the day after pouring the concrete. For anyone who is thinking about building a garage to their home may want to think about contacting a professional for when the times comes. Professionals such as this garage builder Sharon Springs NY or someone local to your area will be able to cater to your needs. It doesn't matter if you want to use your garage to store cars or for a different purpose altogether, they should be able to help you get the job done to the highest standard. Don't be afraid to ask for help, especially when it comes to building on the structure of your home.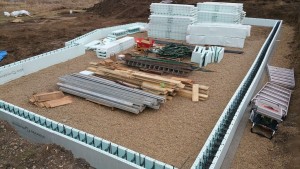 Plan and Set the Schedule in Advance
When homeowners schedule the onsite work on their own, they may struggle to know when to book the trades in. They are not familiar with who has to come before who, and what work needs to be completed at what stages. If booked incorrectly, the project can easily be set back by weeks if the local trades are busy during this time. The team at B&B Homes is used to scheduling these types of projects and are known for keeping things running smoothly and leading home owners on this journey. That is the benefit of working with an RTM builder that can do foundations, basements and garages making the whole project from start to finish seamless and guided.
B&B Homes prides itself on building homes to last families a lifetime by offering quality quality craftsmanship you can trust.