B&B Homes Was Originally Founded in 2002...
B&B Homes was originally founded in 2002 by Bruce Loewen. He sold the family business to his son Travis in 2006. Since then the company has gone on to build over 100 RTM homes that have been carefully shipped throughout Saskatchewan and Alberta to new home owners. Travis has been maintaining the company's original philosophy and vision to build excellent quality homes, while making sure the relationship with the client always comes first.
The company has a devoted team that can take dreams and turn them into reality with carefully constructed plans. B&B Homes recognizes the importance of each request since clients know what they want for their dream home. The B&B team is always open to new ideas!
B&B Homes works with only the best trades available making sure each build maintains the same excellent quality that the company is known for.
It is our mission is to deliver high quality, custom RTM homes designed and build with each of our clients' unique family needs in mind.
Meet our team here.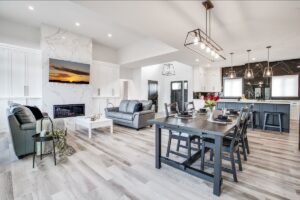 B&B Homes has delivered over 100 RTM Homes throughout Saskatchewan and Alberta.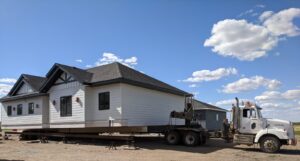 B&B Homes carefully delivers each home to their new location and we are fully insured.
Our dream home was built because of B&B Homes. From the beginning stages until the end the customer service was amazing. They were accomodating, helpful and walked us through every step and process. Dealing with the same people on a regular basis allowed us to feel like we weren't just another customer. They knew us and knew what we wanted. We are more than happy that we chose B&B because we are truly living in our dream home! Thank you!
Evan & Robin Nontell; Tisdale SK